True Collaboration at Work: Kindergarten and 5-day Threes and Fours
Recently, a few children (along with their teacher!) from the 5-day 3's & 4's Class popped into Kindergarten to ask the kindergartners some questions about some artwork they had seen during a recent peek in the classroom while it was quiet and empty.
Specifically, they wanted to know more about the clay pinch pots they had seen on display. How were they made? Could the kindergartners give them some instructions? (Because they had just been experimenting with clay in their classroom and wanted to learn more). They came well prepared with a clipboard so they could write it all down. They visited the classroom a few other times so they could look at the pinch pots the kindergarteners had made and the kindergarteners gave them some instructions: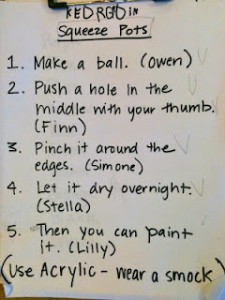 and an extra tip:
"You need a rolling pin for step one."
A few days later, the kindergartners were invited down to attend the 5-day 3's and 4's morning meeting so they could share their pinch pots, drawings and design steps. Four kindergartners went downstairs to find four chairs set out for them and a very captive audience.  They were asked how they decided what to paint on their pots.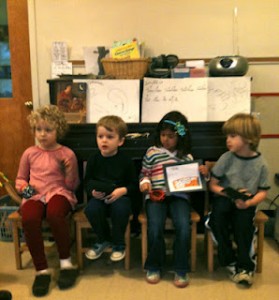 "We first decided what we wanted to do. We were going through a book, Patterns In The Wild, and I chose the spider web."

"I chose the zebra."

"I chose the giraffe."

"I chose the raccoon."

"First we drew the picture and then put a black piece of paper on the back."

"When we were drawing, we didn't paint it yet."
The teacher said: To be clear, what were the steps again?
"First. Draw a picture."

"Second. We taped a black piece of paper to the back."

"Third. Choose the color of the background. I painted the raccoon, it was black and gray, so I had to paint the black then let it dry then paint the gray."
Teacher: We have to wait for the paint to dry overnight?
"Yes."

"One second! You have to know this! If you drop it, it will break into a lot of pieces. My sister dropped it and it broke into a million pieces."

"When you are making it you have to get all the air bubbles out if it. You have to put water on it."

"I put lots of water on it so maybe it won't break. I want a lion pattern." — 3's & 4's student
Teacher: How many students looked through a book at a time?
"Two looked at a time."

"What did you use to draw them?" — 3's & 4's student.

"We drew them with color sharpie markers. First black then if the pattern shows you to use a color you use a color."

"Which pattern you want decides the color."

"Where do you get the sharpie markers?" — 3's & 4's student

"We have some in kindergarten. You can use ours."
Borrowing the colored sharpie markers.
Teacher: We are a class that respects other peoples' art. Would you leave your pots & drawings with us so we can look at them?
"Yes." (Two kindergartners agreed to leave their work.)
Teacher: Would you be able to make signs for them?
"Yes!"
Teacher: What should they say?
"'No touching' and 'no dropping.'"

"I'll write 'no touching.'"

"And I'll write 'no dropping.'"
The kindergarten pinch pots are on the windowsill in the 5-day 3's and 4's classroom with their respective patterned drawings and their signs about no touching or dropping.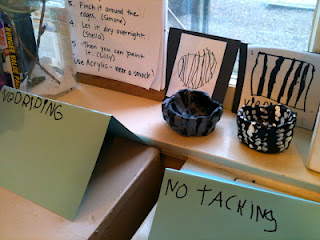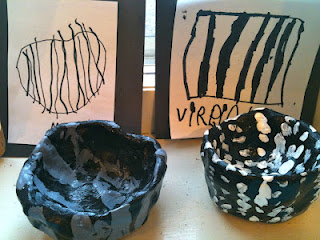 Soon after the kindergarteners visited the 5-day 3's and 4's, we got this thank you note: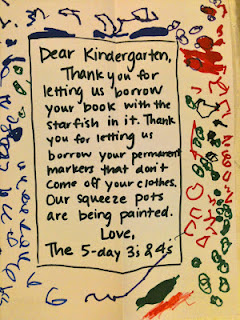 Followed by a visit from all of the students of the 3's & 4's wherein a few of the artists presented their work and the kindergartners asked them questions like: "Why do you call them squeeze pots?"
"Because you squeeze them."  More questions were asked about how they went about choosing their patterns and a kindergartener recognized that one of the pots had been inspired by the bumble bee pattern. A kindergarten student said,
"Some of their pinch pots look like ours!"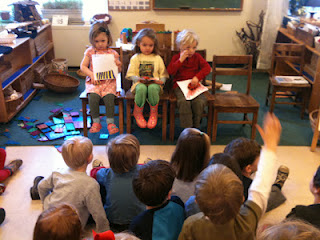 After the presentation, the kindergarten class was invited to view all of the pieces on display in the SQUEEZE POT MUSEUM, which would be open in a few days.  So, last Friday morning, we took a trip downstairs to the SQUEEZE POT MUSEUM.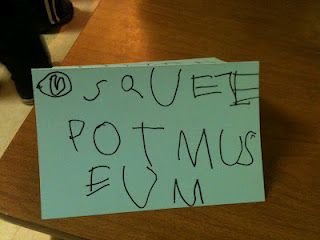 First, to get into the Squeeze Pot Museum, you had to buy
tickets.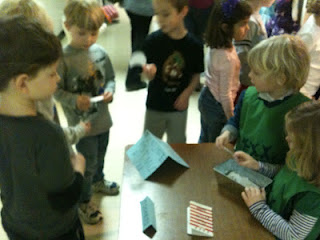 They were free, so you just had to say, "One please."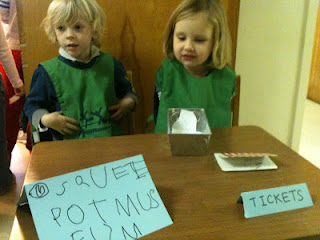 Squeeze Pot Museum entrance
Then, we had to get our tickets punched.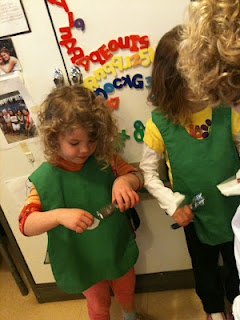 Some of the artists were on hand to answer questions about their work.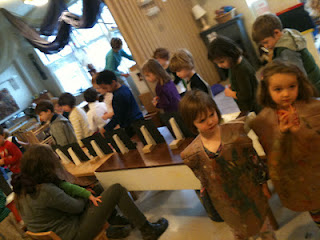 Discussing their piece.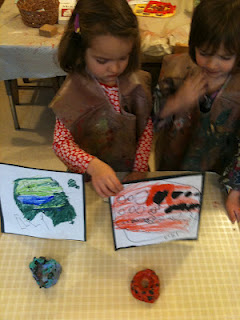 Artwork on display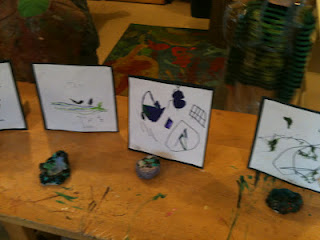 The kindergartners enjoyed the museum so much, they wanted to go through twice! Ask your child about their visit to the Squeeze Pot Museum. Ask them about their own pinch pot and what pattern they were inspired to paint on their own pot.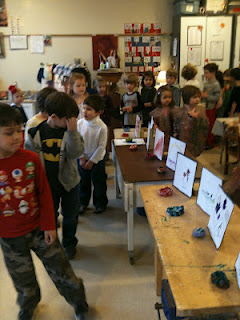 Amazing what a little inspiration and collaboration can do!
*Many thanks to Resa Aschbacher for her copious notes and to Kay Byrne for her photographs which helped to document the kindergarteners' visit to the 5 day 3's & 4's classroom.